Chronicles
From Rise of Kings Wiki
Jump to navigation
Jump to search
Please note: We are still trying to update this site as quickly as possible. Your time and patience is most appreciated.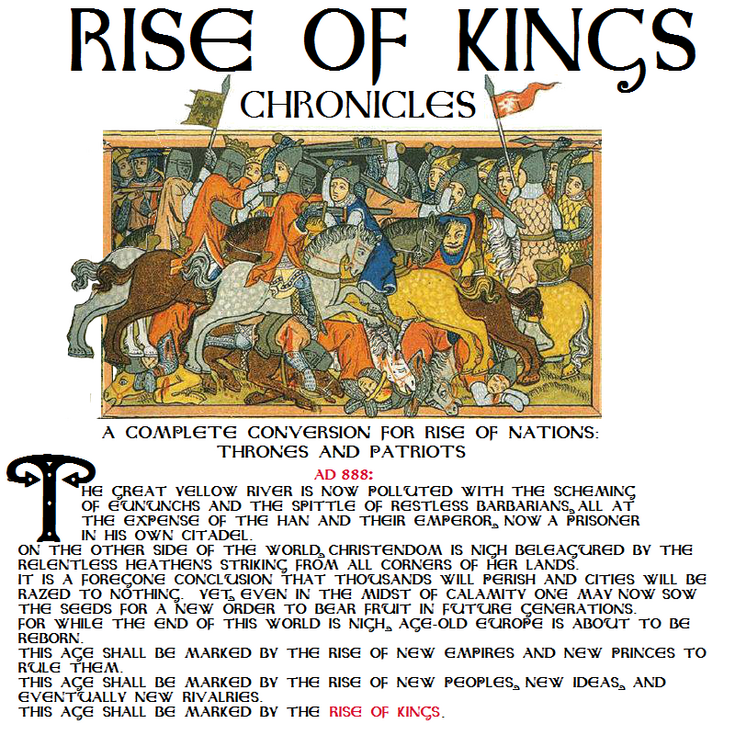 Introduction and history of this mod
Rise of Kings is a mod for the award-winning historical real-time strategy computer game Rise of Nations: Thrones and Patriots initiated by Super7700 and later developed by Beelim Solutions Ltd/Bhd, centred around the cultures of the old world, spanning a historical period of roughly from 888 to 1530CE.
Rise of Kings was originally proposed as a mod project in late 2010, based around Rise of Napoleon on HeavenGames, a real-time strategy gaming community forum. By 2011, a v1.0 edition was produced (albeit with no unique units) and by 2013 it began to take on its current form with RKC Update 7. Since then, it has become one of the more popular mods for Rise of Nations. 
Downloads, external media, and other miscellaneous items.

Highlights of mediaeval history:

Frequently Asked Questions

1. How do I install this mod?

Look for the link to the appropriate article under the section above this one.

2. The mod malfunctioned and gave a "NO GPIECE_UNIT" error when I first started it! what should I do?

We do test the mod for issues regarding startup, but here are some possibilities for troubleshooting:

One or more core files for Rise of Nations was compromised. As Rise of Kings is highly reliant on some BHG-produced material, it is best to install Rise of Kings on a clean and unchanged version of Rise of Nations: Thrones & Patriots.
You did not install the mod properly. Make sure that the folder "Rise of Kings 1.0" is sitting in your /mods folder for Thrones & Patriots.

3. But what if it says "GATHERING EXCEPTION DATA"?

In the likely but unfortunate event that this takes place, you need to let us know the following:

What factions were active in your crashed game,
What ages all factions were in prior to the crash,
What building you last created and
What unit you last tried to train
The size of your map

You can place a comment on this page here or set up a user page (if you so wish). We periodically check this wiki for changes even as we are still in the process of writing new content.

4. What about a CTD (crash to desktop) error?

See point number 3 above.

5. When I start a new game, I can't see the new factions of this mod. Why?

This is because Rise of Nations is a very mod-unfriendly game, and our factions replace the original 24 factions of Rise of Nations. To access them you must enter their vanilla names (which are located here). So for instance, if you want to play the Holy Roman Empire you must use the French instead (mediaeval France itself replaces the vanilla American civ).

6. Peasant Levy and Highland Caterans can't be selected, is this a bug?

Peasant Levy are not supposed to be selectable, because they are untrained and undisciplined. The only way you can select them is by either using the SHIFT + , function in Rise of Nations, or by setting rally points and letting the units move into position to attack.

7. I installed a Steam-friendly plugin version into RoN:EE and the game won't detect the mod. What should I do ?

Remove "mod-status.txt" from your /mods folder, and try again.

8. Where are the Bulgars?

Bulgars in this game aren't as significant as they first lost their imperial status and significance early at the beginning of the 9th century, only to regain it later at the middle of the 13th century before collapsing later. In the two CtWs being designed for Chronicles, the Bulgars are undergoing collapse and so appear as a non-playable faction in the Early CtW. Nevertheless we do have plans to include them in the following:

Swords of the Prophets, a "prequel" mod to Chronicles,
An appearance as a playable faction in an early 20th century mod, Age of Darkness, and
As a playable faction in standalone games.

Factions

There are currently 24 factions in the game; each one based on a historical mediaeval civilisation. Players of CtWs however may also meet sub-factions and barbarians, which may be based on one or more civilisations, and even field their own special units and styles of play.




To view a faction, click the shield or banner associated with that faction. You may hover your mouse pointer over a shield in order to find out to whom that banner or region belongs to. You may also click the compass in the lower-right corner to see the PNG render.
To view what factions replace which vanilla factions from Rise of Nations, consult this page.




Units

Buildings and Structures

Atlas and CtWs

Technologies and Research

(this content is still pending as of March 2017)

Technologies:

Upgrades:

 

Atlas:

Recruitment and restoration:



Features
Screenshots of the mod
Credits and Acknowledgements
Project team members

Our fans

Chief developer: VelvetClaw (Beelim Solutions Bhd)


llhhll, nhinhohinho, NickoX, Merytaten-Tasherit, JeluArg, derdy, WartotalXD, Col_Molotov, Wakain, Y Afiq, Mitrelis A, History_Soldier, Dickman S, GH & MW "Meeps" Brough-Smythe,

....and many, many others....

Their contributions, support and advice in helping bring together a concept over five years ago to reality have all proven to be invaluable, to which we owe you all a debt that we can never truly repay.

Advisors:
Super7700, Jones Z, T Aaliya, Wadis10, LT_Muenchen


Playtesting / Quality assurance: $BIGBOI$